Do you enjoy the delicious taste and aroma of a juicy, grilled burger? My family loves burgers. We eat them at least once a week as a fast, easy, and fun lunch or dinner. In fact, my daughter has said that one of her favorite things in the world is melted cheese oozing out of a freshly made burger.
If you like burgers as much as we do, then a library of delicious stuffed burger recipes is a must. Here are 31 stuffed burger recipes that are bound to make you salivate!
#1 The Spicy Mayo Avocado Stuffed Burger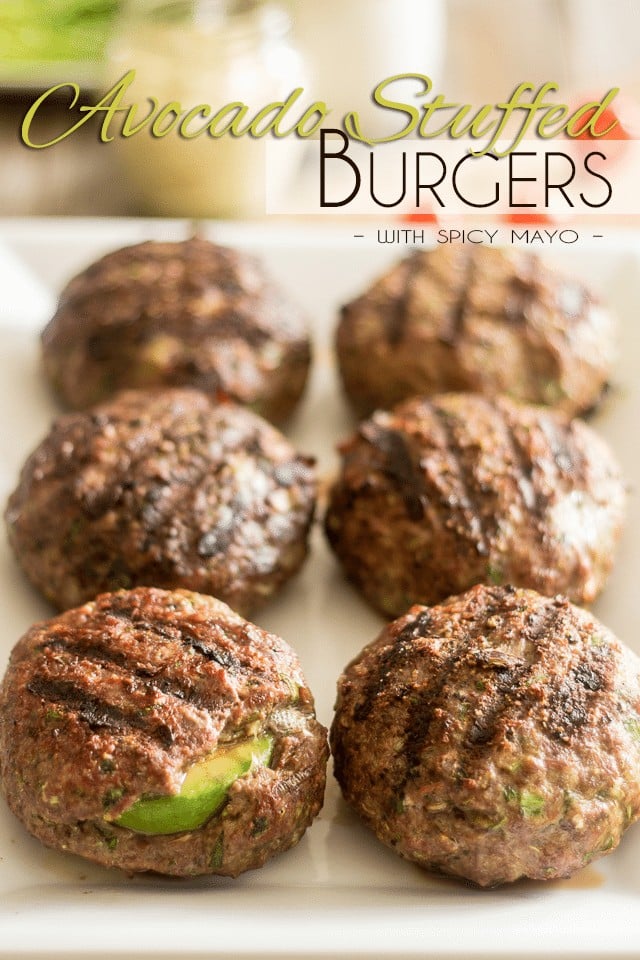 There are few combinations in the world as rich and creamy as avocado and mayo. This recipe takes your stuffed burger to the next level with an avocado and spicy mayo blend that hits your senses as soon as you take a bite. I end up feeling healthy when I use this recipe, too, because it incorporates avocados, a superfood that contains almost 20 different vitamins and minerals. You can try the recipe here!
#2 The Bacon Cheese Stuffed Chili Burger
Bacon and cheese are a match made in burger heaven, so it's no surprise that they've made it onto this list. This recipe takes your classic burger, stuffs it with cheese and bacon, and then puts chili on top. You can try it here!
#3 The Bacon Guacamole Stuffed Sausage Burger
Avocado makes another entrance with this recipe, but this time as guacamole! The Italian sausage that these burgers are made out of pair deliciously with the bacon and guac. Try the recipe here!
#4 The Anything Stuffed Beer Can Burger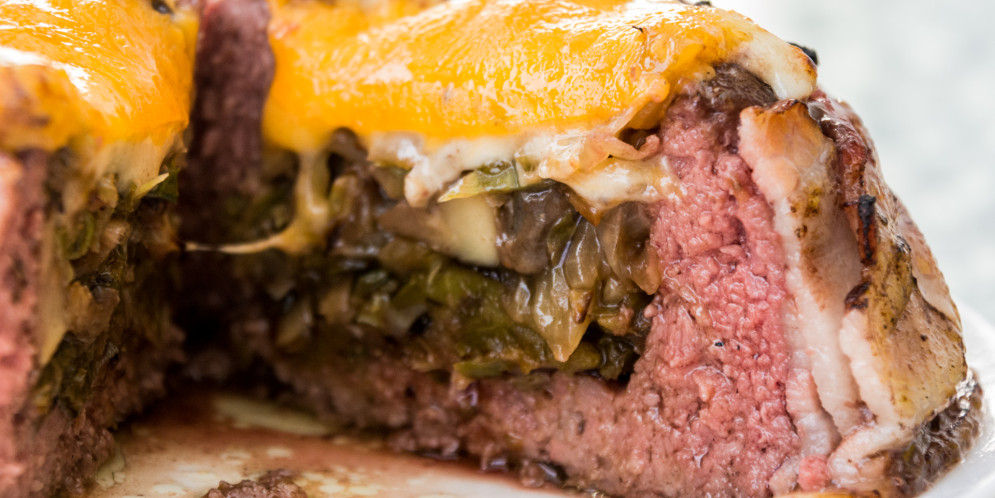 If you're the kind of cook that likes to get creative, then this stuffed burger recipe is the one for you. The recipe gives you a simple bacon burger base, shows you how to mold it around a beer can, and then lets you stuff with any ingredients you want. You can let your imagination run free here.
#5 The Caprese Stuffed Burger
A caprese salad is an Italian concoction of tomatoes, mozzarella, basil, olive oil, and salt. If that sounds good to you then try this fancy stuffed burger here. I like to make this one if I'm entertaining friends that I want to impress!
#6 The Cream Cheese Jalapeno Stuffed Burger
This is one of my favorite stuffed burger recipes! The sweet smoothness of cream cheese and the tangy bite of jalapenos go so well together, and it's such an easy recipe to make. If you enjoy jalapenos, then give it a try here!
#7 The Feta Stuffed Turkey Burger
If you aren't a fan of turkey burgers, then maybe you just haven't had them the right way. Even though it's a little more time intensive than some of the other recipes on this list, this turkey burger recipe is totally worth it. It incorporates feta cheese, ground turkey, roasted peppers, pine nuts, and arugula into a delicious culinary experience that will shock your in-laws, in a good way. You can try it here!
#8 The Greek Stuffed Burger
Onions, goats cheese, olives, feta, spinach – if that list sounds delicious to you, then you should try this stuffed burger. Inspired by Greek cuisine, this recipe creates a juicy, oozy, flavorful delight that my husband can't resist. Try it here!
#9 The Juicy Stroganoff Stuffed Burger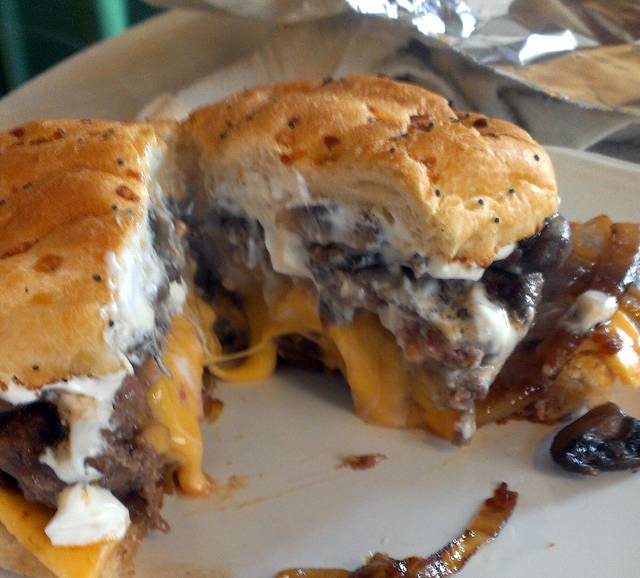 Continuing with the international theme, this stuffed burger recipe features beef stroganoff, a Russian creation that combines beef and mushrooms. This is one of the only ways I can get my kids to eat mushrooms without complaints, so if you're having that issue, you can try the recipe here.
#10 The Goat Cheese Guac Stuffed Burger
Even though my husband is not a big fan of goat cheese, the complex flavors happening in this recipe seem to make it more than palatable. I think he forgets that the goat cheese is there. For me, the combination of the onions, cheddar and guacamole is heavenly. Try it here.
#11 The Versatile Jalapeno Cheddar Stuffed Burger
The great thing about this recipe is that you can make it with either turkey or beef, and jalapenos and cheddar are another one of those match made in heaven combinations. My kids were raised with spicy food and love it, but if yours don't then you can leave out the jalapenos and it still makes a great, simple meal. You can find the recipe here.
#12 The Smoked Gruyere Stuffed Burger
Gruyere is a hard Swiss cheese that has a complex taste often described as sweet with a hint of salt. If you see little cracks on its surface, don't worry – that's normal. This recipe is a fancy version of the cheese stuffed burger that we see so often.
#13 The Bacon Ranch Stuffed Burger
Do you like ranch? Do you like burgers? Do you like bacon? If you answered yes to all of the above, then try this recipe here.
#14 The Apple Gouda Onion Stuffed Turkey Burger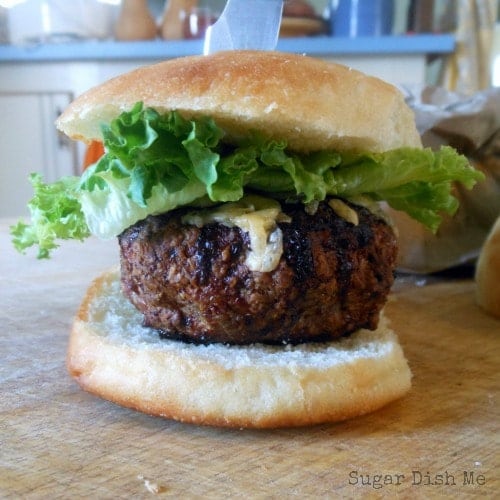 The name is a mouthful (haha), but this is a great turkey burger recipe to try. The sweetness of the caramelized onion and gouda brings out the best of the turkey patties. Find it here.
#15 The Blue Cheese Stuffed Burger
If you're a fan of blue cheese, then try this unique recipe.
#16 The Mozzarella Stuffed Turkey Burger
A plain old turkey burger is a sad sight when you can make something like this. Try it here.
#17 The Reuben Stuffed Burger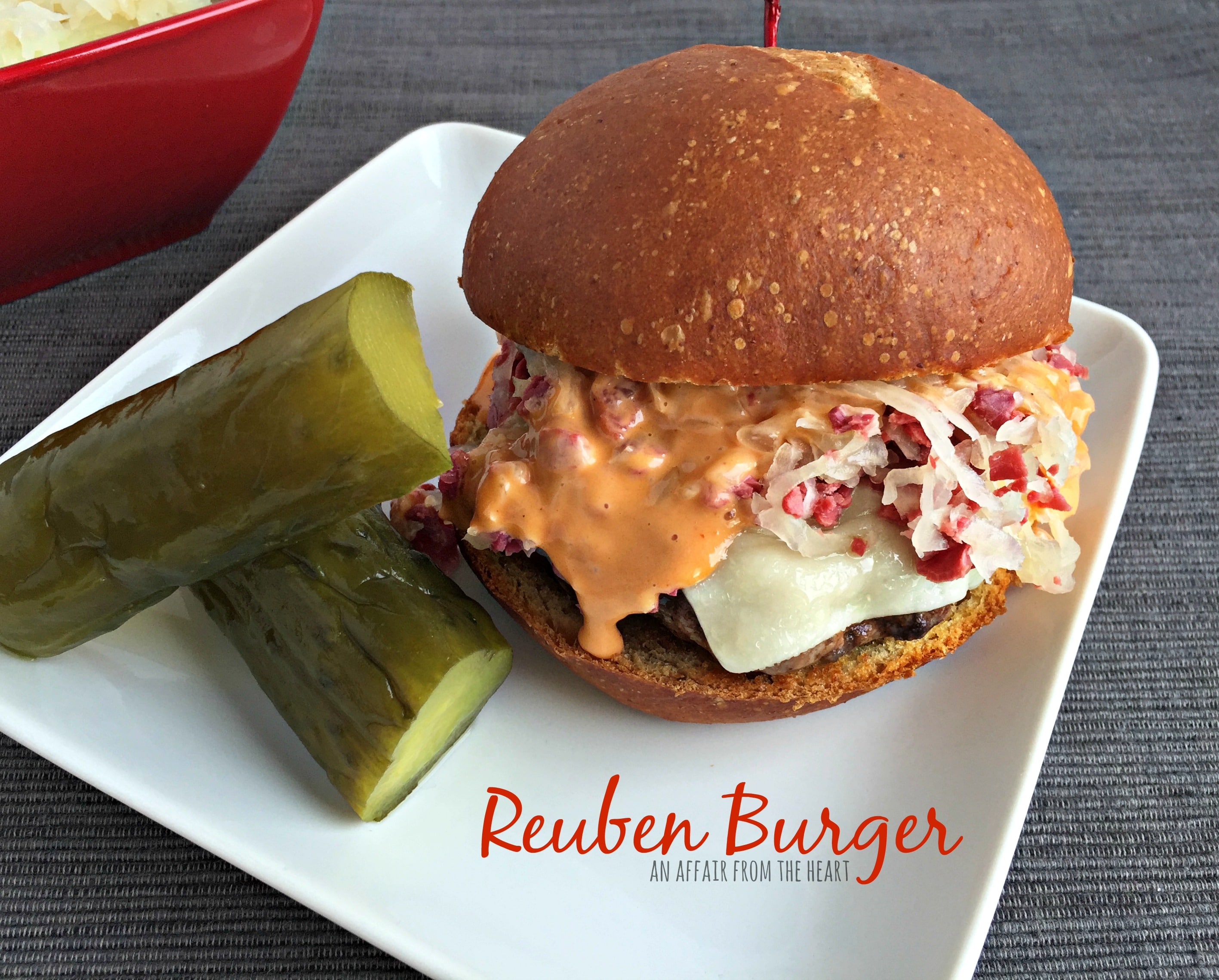 The sour, pickled taste of the Reuben brings new life to the burger in this recipe. Find it here.
#18 The Stuffed Black Bean Burger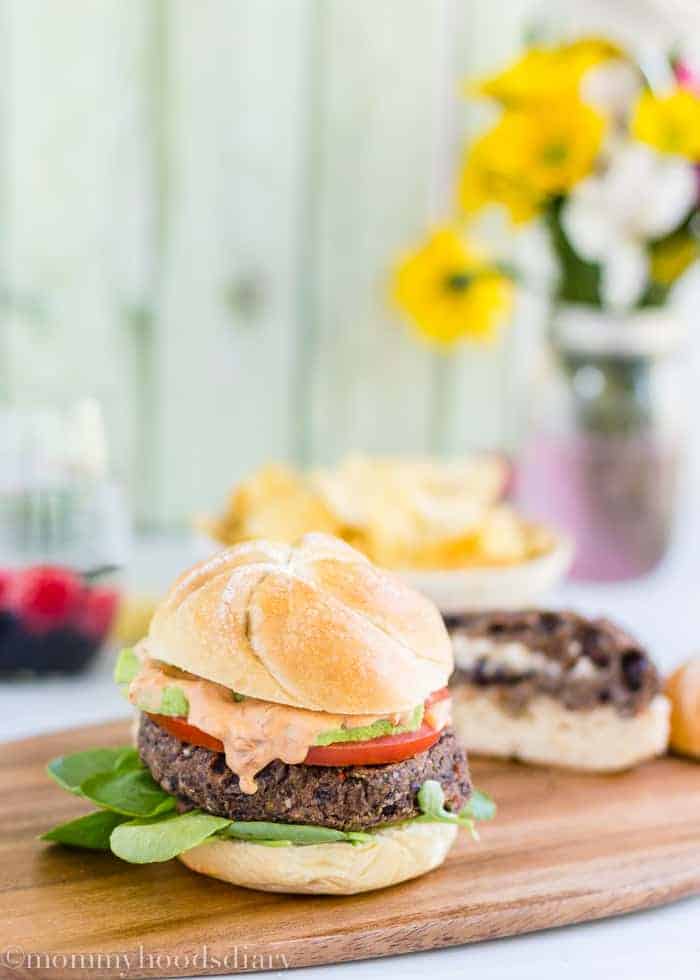 We've finally made it to the black bean burger! When made right, black bean burgers are just as delicious, if not more so, than their non-vegetarian counterparts. Try this recipe here, and let me know what you think in the comments below.
#19 The Bacon Stuffed Cheeseburger
It seems like bacon and burgers have been together since the beginning of time, and there's no need to change the status quo. Try this recipe here.
#20 The Bacon Chipotle Stuffed Burger
It took me a while to realize that Chipotle isn't just a restaurant chain, it's a special blend of spices. But since that fateful day, I haven't looked back! These tangy, flavorful burgers are great. You can try them here.
#21 Stuffed French Onion Sliders
Sliders are great! They're small bursts of intense flavor that you can fill up on without feeling guilty. If you're a fan of the cheese and onion heavy flavors of French Onion soup, then try this slider recipe here.
#22 The Herb and Cheese Stuffed Burger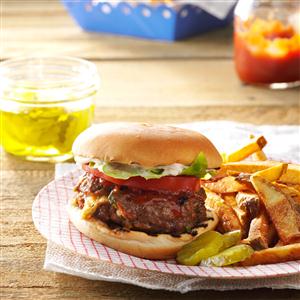 Spring is finally here, and the herb gardens are flourishing! This recipe takes advantage of that beautiful and delicious Spring growth. You can check it out here.
#23 The Mushroom and Swiss Stuffed Burger
Mushrooms and Swiss cheese – need I say more? This flavor combination makes me feel like I'm eating my burger in the middle of an upscale restaurant while I sip red wine and talk about Paris. Try it here.
#24 The Artichoke and Spinach Stuffed Burger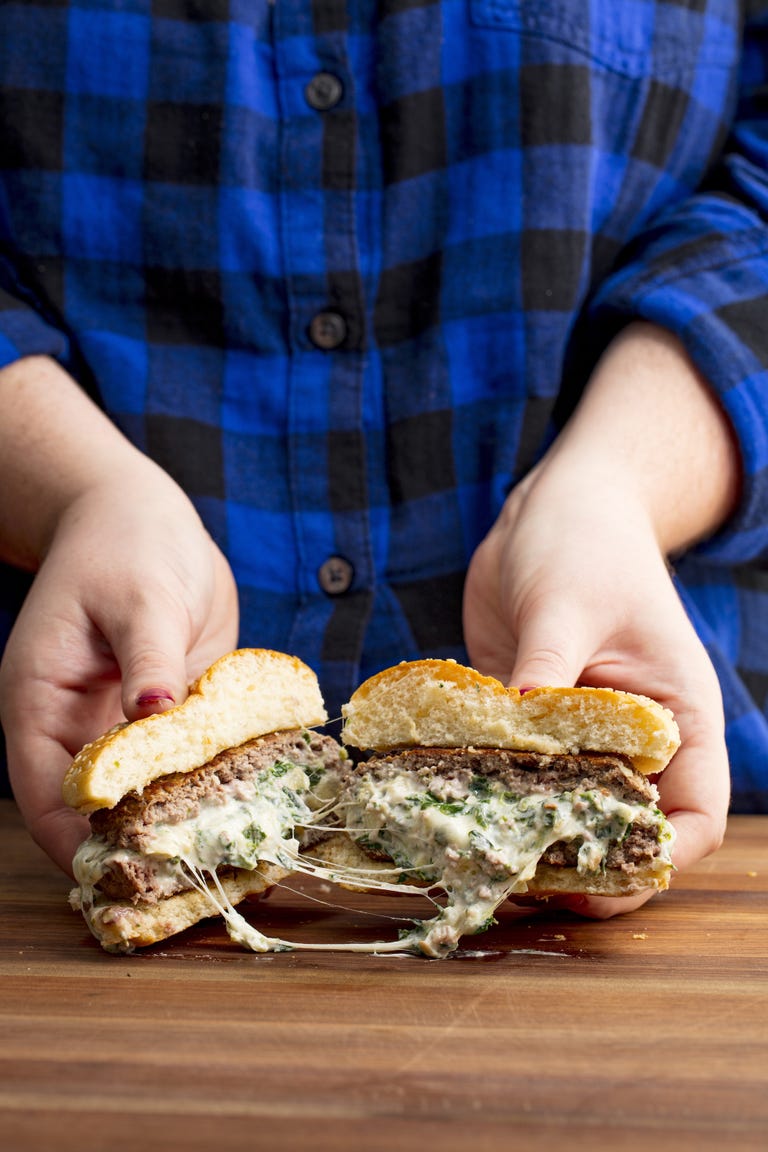 I have to admit that there's a limit on how healthy you can get when you're cooking traditional beef burgers. This recipe is one of the most guilt-free ways to make and eat burgers I've found so far. If you have any others, feel free to share in the comments below. You can try this one here.
#25 The Mediterranean Stuffed Burger
The refreshing flavors of tomatoes, lemon, and oregano come together in this delightful recipe. I don't get the opportunity to experience Mediterranean cuisine-inspired tastes very often, so this is a great way to mix up the meal plan and get in a little variety. You can try it here.
#26 The Stuffed Taco Burger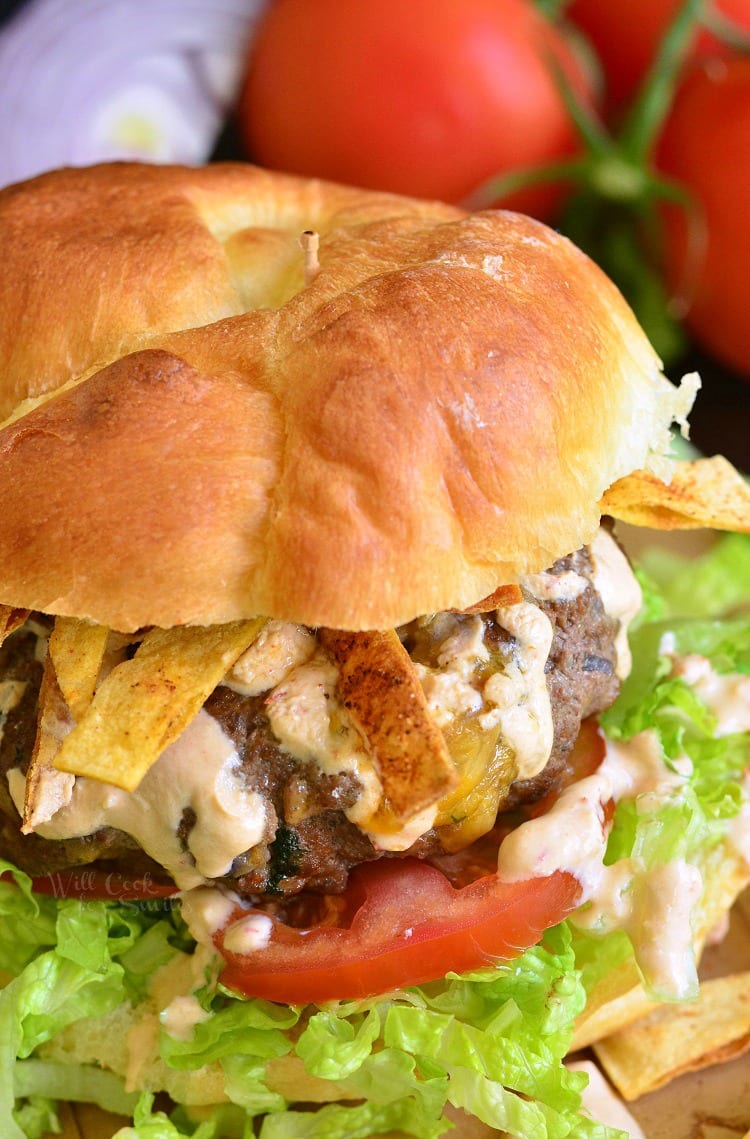 Mexican cuisine is one of my husband's favorite, so it's no wonder that he gets excited about this burger. The crispy strips of tortilla give this burger an extra crunch, and the sauce tastes like what you would find at an authentic Mexican restaurant. Try it here!
#27 The Pineapple Stuffed Burger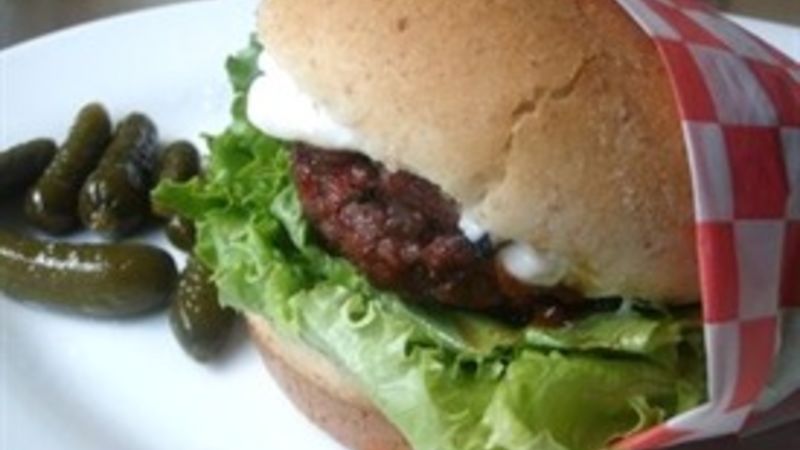 This is one of my all-time favorites! I am one of those weird people that loves pineapple on my pizza, and if you are too, then this is the burger recipe to follow! The result is a deliciously sweet and succulent patty. Try it here!
#28 The Doritos Stuffed Burger
The name is kind of misleading because you aren't actually stuffing the burger with Doritos, but don't worry – the cheesy chips still get their big entrance with this recipe. The burgers are stuffed with cheese, and the Doritos go on top. If you're a fan of the idea, try it here.
#29 The Cheesy Lasagna Stuffed Burger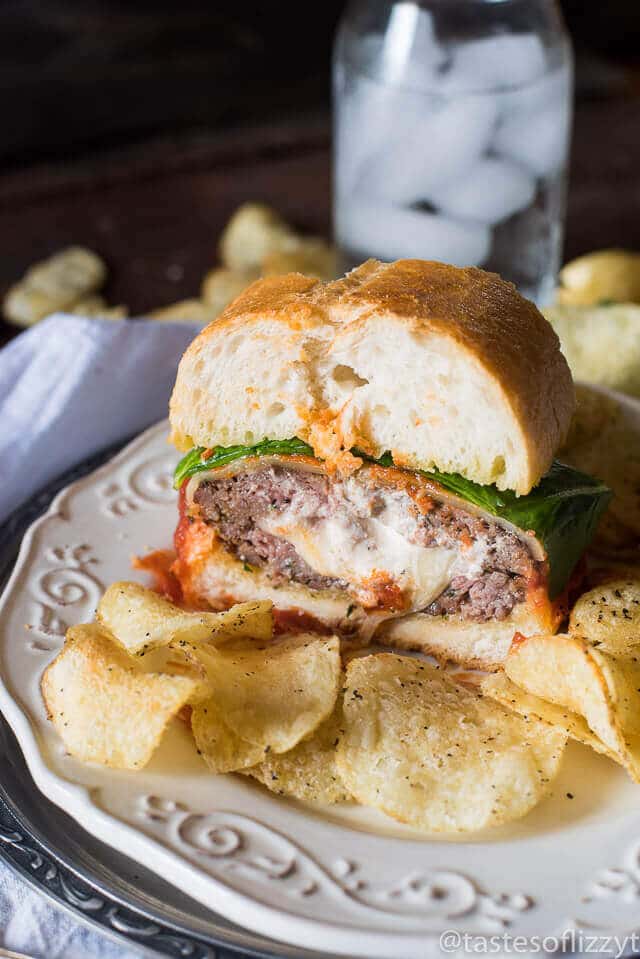 If you're a lasagna lover like me, then you have got to try this lasagna stuffed burger. It is literally two of my favorite things coming together to create a cheesy, burger-y heaven. The only thing I would say is that if you're on a diet, don't make this, because you won't be able to resist it. You can find the recipe here.
#30 The Apple Slaw Cheddar Stuffed Burger
These burgers are stuffed with cheese and topped with an amazing apple slaw. While it doesn't always seem intuitive, apples go great with salty, greasy things, and this recipe really highlights that! Check it out here!
#31 The Bacon and Arugula Stuffed Siracha Burger
No one warned me when I took my first bite of arugula that it would be spicy. Good thing I love spicy foods! Since that fateful day, arugula has become a regular in my kitchen, and this juicy, cheesy burger recipe features it perfectly! You can try it here.
Conclusion
Did you enjoy that list of delicious stuffed burger recipes? Since it's such a fun and common meal for my family, I wanted to gather some recipes and post them here so that more people enjoy the juicy deliciousness of stuffed burgers.
Comment below with any thoughts or comments, and feel free to share this article if you enjoyed it!