Do you enjoy biting into a juicy burger? Who doesn't? Burgers are a classic staple of the American diet, and the variations are endless.
If you love burgers, then you'll definitely enjoy this list of 30 crazy burger recipes that are as unique as they are delicious.
#1 The Ramen Burger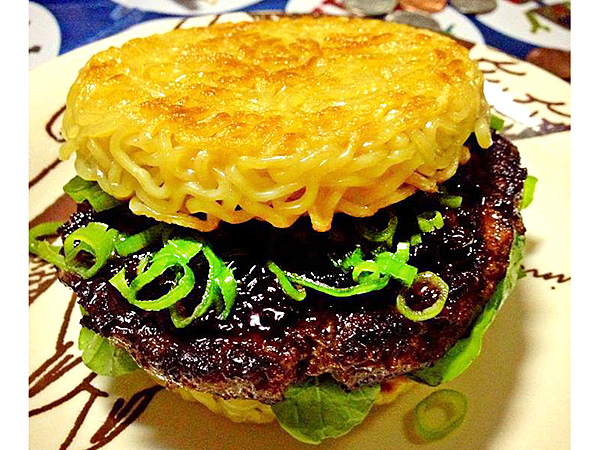 Do you enjoy lunch time runs to your favorite fast food joint for a juicy burger? How about late-night ramen and TV time? If these situations sound familiar to you, then you have to try the ramen burger. The ramen burger, a juicy beef patty stuck between two fried ramen "patties," is one of the most delicious and guilty pleasures I've had in a very long time. You can try it here.
#2 The Cheddar Turkey Burger
There are a surprising number of healthy burger options on this list. This is the first in that category. Apples, cheddar, and turkey make this burger a wholesome and delicious healthy choice. Try it here.
#3 The Siracha Turkey Burger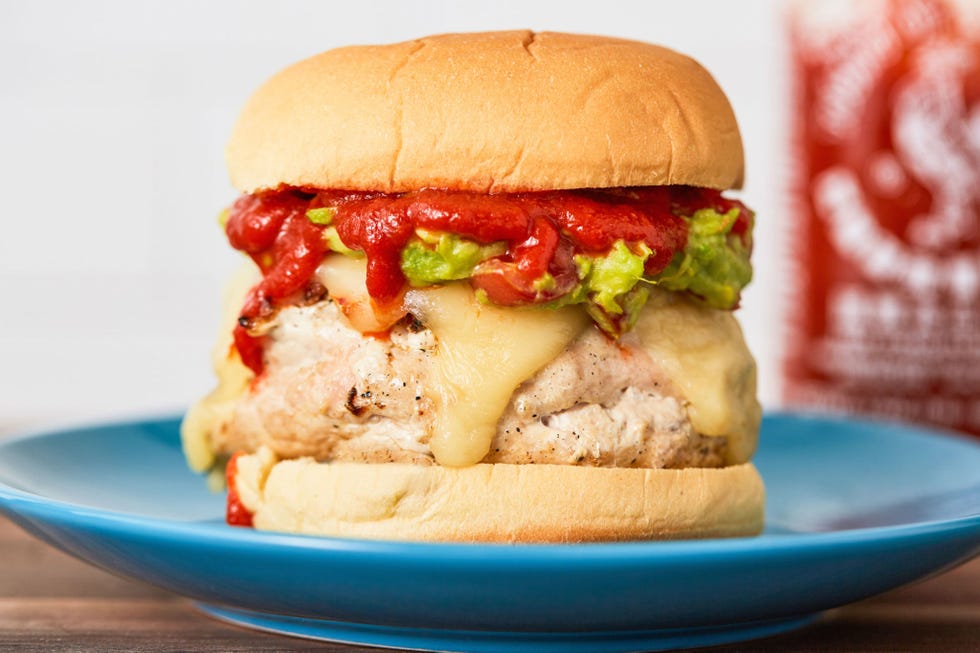 I grew up with Siracha and was obsessed with it for a brief time during my teenage years. It goes well with everything – chips, chicken, noodles, sandwiches. If you like Siracha as much as I do, then try this spicy turkey burger. You can find the recipe here.
#4 The Breakfast Burger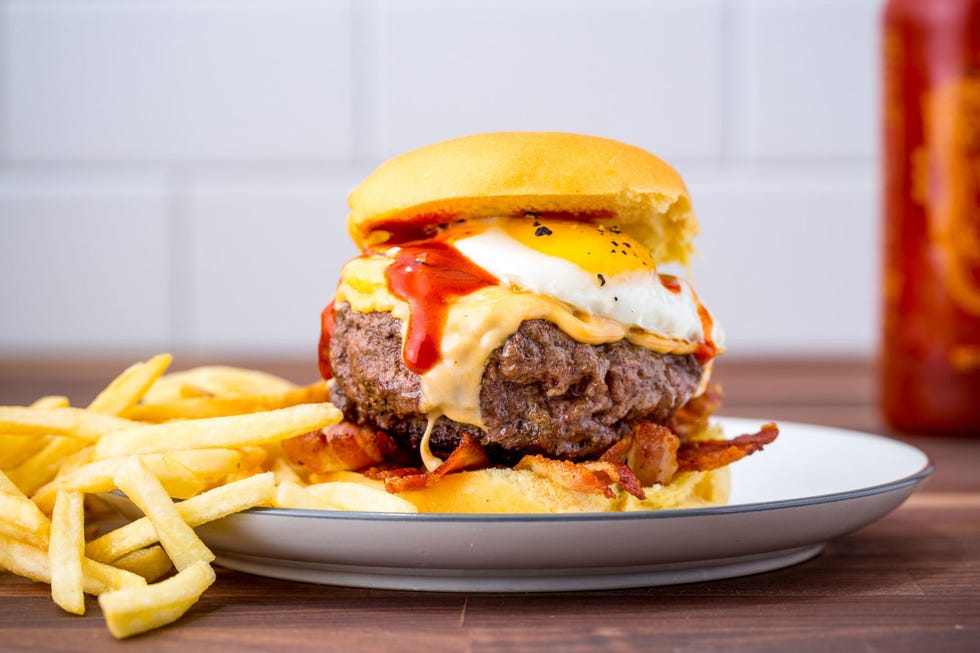 The early bird gets the worm, or in this case, the burger. Breakfast burgers are a favorite in my family, and this extra cheesy recipe takes the cake when it comes to combination meals. Try it here.
#5 The Peanut Butter Burger
My hubby loves peanut butter. He'd have it in everything if he could. That's probably why he was thrilled when I presented him with a peanut butter burger. It might sound strange, but it's actually delicious! Try it here.
#6 The Coffee Rubbed Burger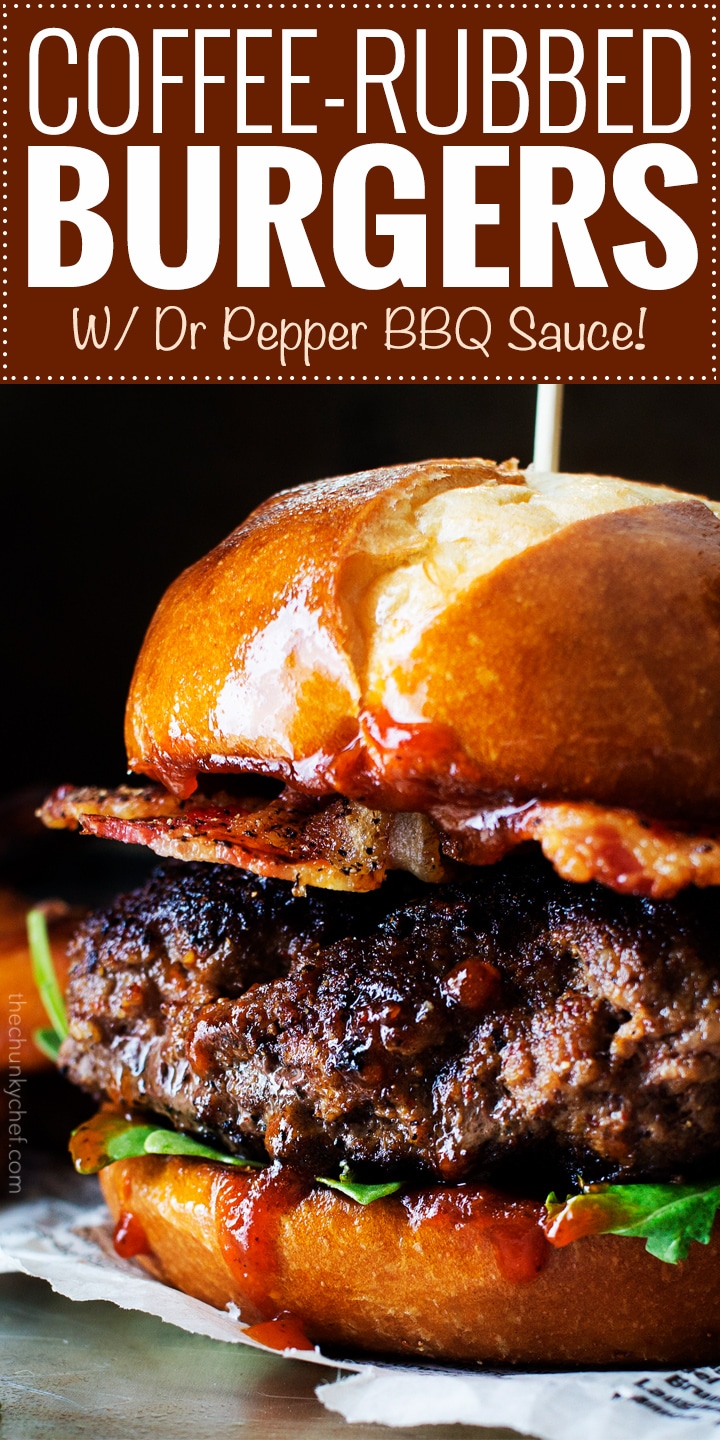 This coffee rubbed burger is topped with a Dr. Pepper sauce, making it extra unique and yummy. If the combination sounds worrisome to you, don't fret. The coffee and Dr. Pepper combined with the other ingredients are far from overpowering. You can find the recipe here.
#7 The Bacon Kimchi Burger
A staple of the Korean diet, kimchi has all kinds of health benefits, including weight loss and cancer prevention. When incorporated into a burger, kimchi adds a nice spicy bite that will awaken your senses. Try it here.
#8 The Whiskey Sauce Burger
Does a rich whiskey sauce, caramelized onions, and bacon sound like a yummy combination to you? If so, try the recipe here.
#9 The Sweet Potato Black Bean Burger
Veggie burgers get a bad rap for being dry and crumbly. That's unfortunate because when done right, veggie burgers are just as delicious as their meat counterparts and are usually much healthier. If you're a vegetarian or just wanting to try something new, this sweet potato black bean burger is a great way to go. You can try the recipe here.
#10 The Chipotle Burger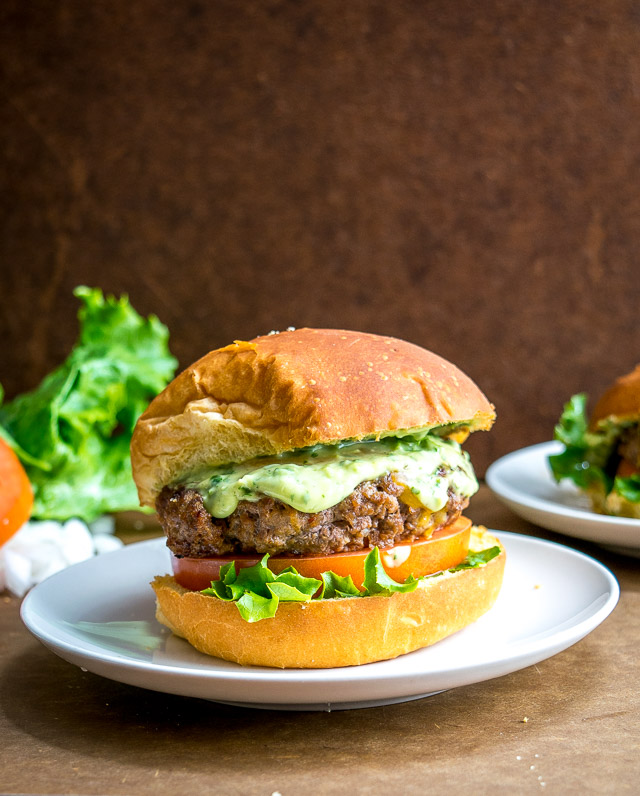 The combination of spices that make up chipotle is arguably one of the greatest inventions of mankind. If you love chipotle as much as I do, then give this burger a go. The avocado sauce balances the bite of the chipotle perfectly. Try it here.
#11 The Crunchy Eggplant Burger
Here's another vegetarian/vegan option that will knock your socks off. Although the words "eggplant" and "burger" don't usually go together, this crunch eggplant burger is surprisingly yummy. If you're feeling adventurous, try it here.
#12 The Lentil Burger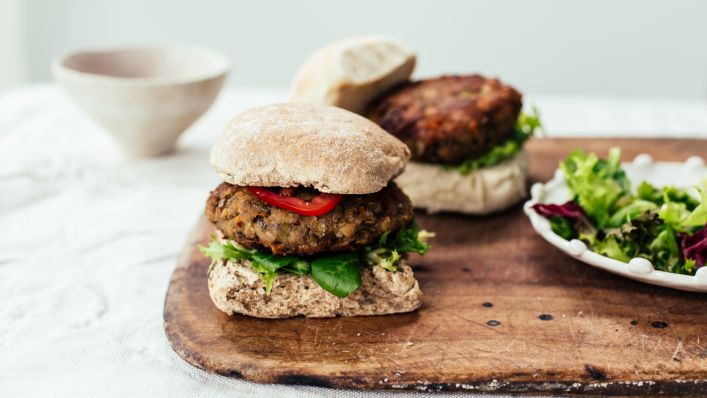 Continuing with our vegan theme, lentils are high in protein and carry a rich nutty flavor. These lentil burgers taste almost like meat and are a much healthier option. You can find the recipe here.
#13 The German Cabbage Burger
Here's a burger inspired by German cuisine. If you're looking to go international for tomorrow night's dinner, try this unique burger recipe. You can find it here.
#14 The Chicken Pita Burger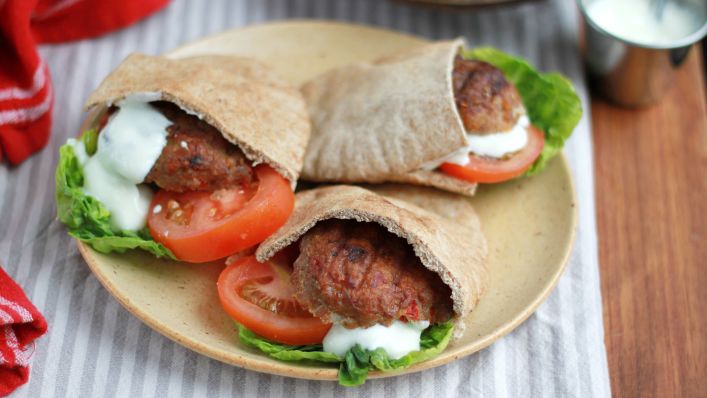 Chicken and pita are like a match made in burger heaven in this crazy recipe. Try it here.
#15 The Turducken Burger
Burgers with two types of meat are common, but usually those two types of meat are beef and pork. In this burger, beef and pork are replaced by turkey and duck. Try the crazy recipe here.
#16 The Cowboy Burger
What is a cowboy burger? Here's a hint. It's the combination of grilled beef, a delicious BBQ sauce, and spicy mayo. Find out more here.
#17 The Guinness Burger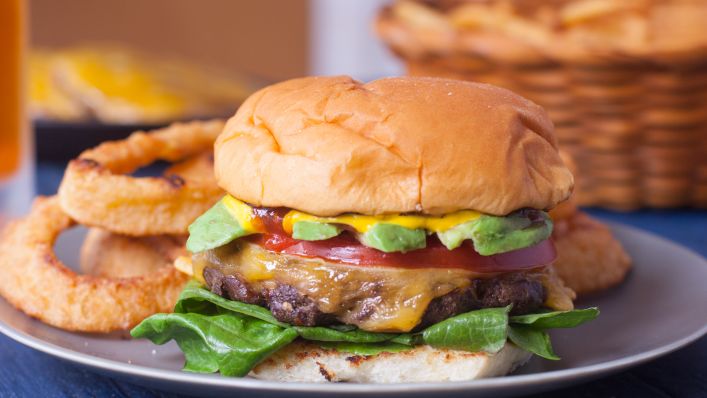 Summer is the time for beer and burgers. Usually that statement means burgers and beer separately. In this case, the beer goes in the burger. Try it here.
#18 The Teriyaki Turkey Burger
This burger is special in that not only does it utilize a delicious teriyaki sauce, it also contains pineapples! The combination of salty and sweet is sublime. Try it here.
#19 The Jalapeno Popper Burger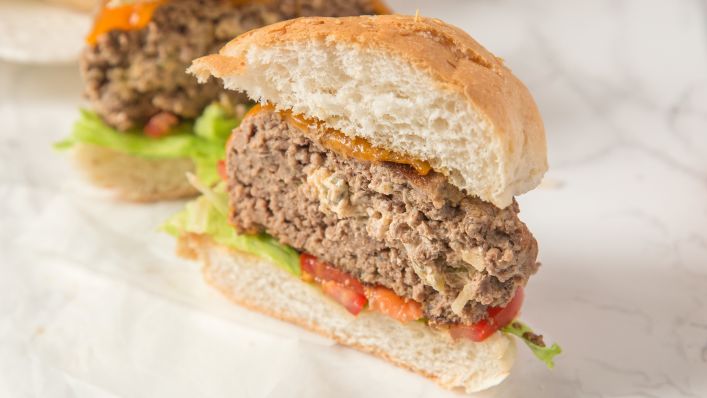 Do you love jalapenos? Who doesn't love jalapenos? The best thing about this recipe is that it takes those jalapenos and gives them an added crunch. This gives the burger all of the texture and flavor it needs to get onto this list of crazy burger recipes. Try it here!
#20 The Crispy Pepperoni Burger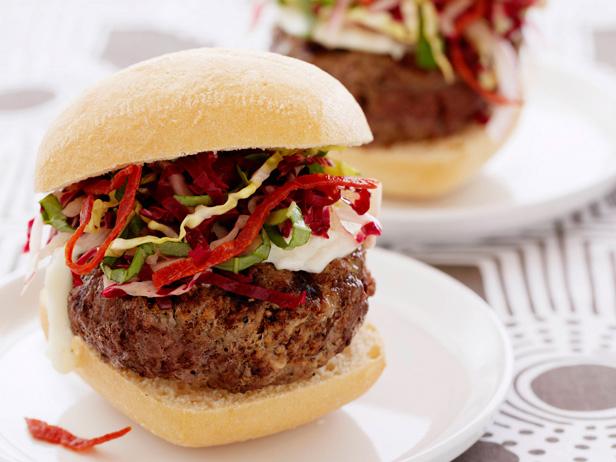 It sounds like a marriage between a pizza and a burger, but it's much more than that. The radicchio and red onions give this burger a fancy bite, and the pepperoni lends a crispy, spicy touch that takes this burger from good to amazing. You can try it here.
#21 The Steak and Frites Burger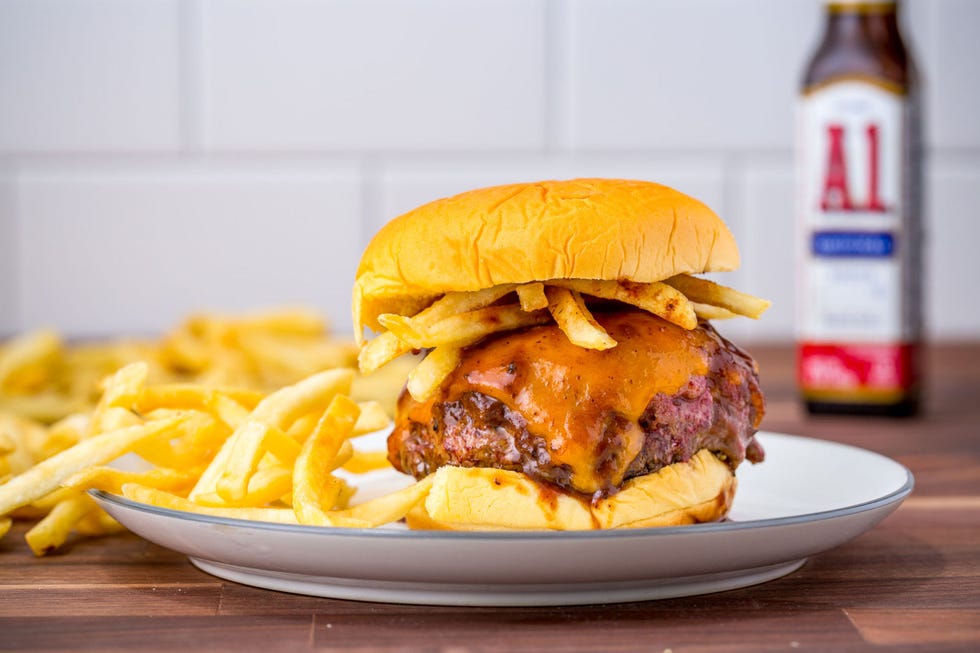 The burger goes old fashioned in this recipe. Instead of taking the family out to a steak house, how about putting together some delicious steak and frites inspired burgers in your very own kitchen? Try it here.
#22 The Chicken Fajita Burger
One of my family's favorite places to go is our local Mexican restaurant. While we're there, my hubby will inevitably order a plate of chicken fajitas. If you're craving both Mexican food and burgers, then this might be the perfect fix for you. Try it here.
#23 The Cajun Shrimp Burger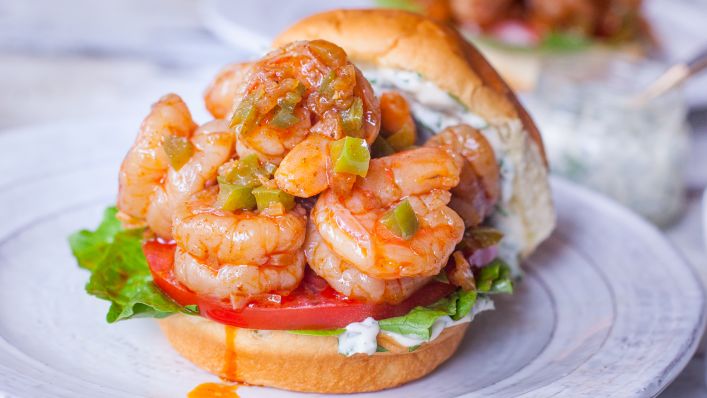 This burger is crazy because it has shrimp in it. I don't know about you, but I rarely come across shrimp burgers, so it had to be on this list. Try it here.
#24 The French Onion Soup Burger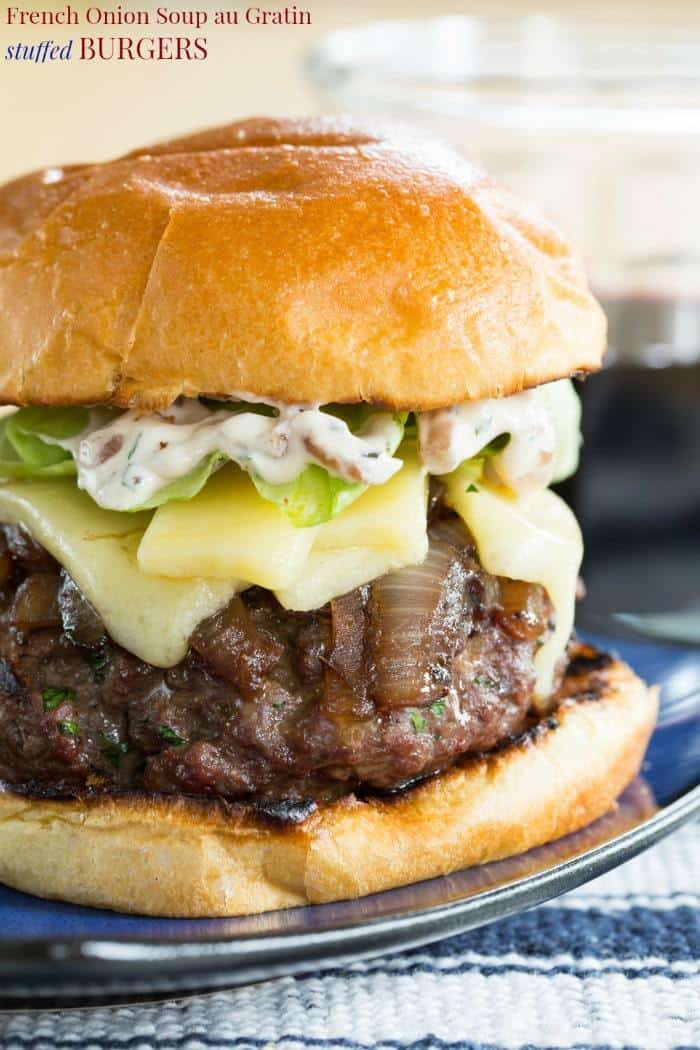 Do you like the cheesy, salty, onion-filled taste of French onion soup? If yes, try the burger version of it here.
#25 The Thai Turkey Burger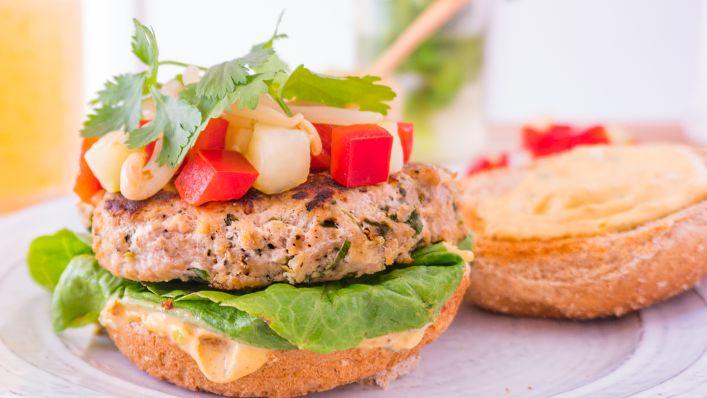 If you like the flavors you'd find at a Thai restaurant, then try this delicious Thai turkey burger. The recipe is here.
#26 The Quesadilla Burger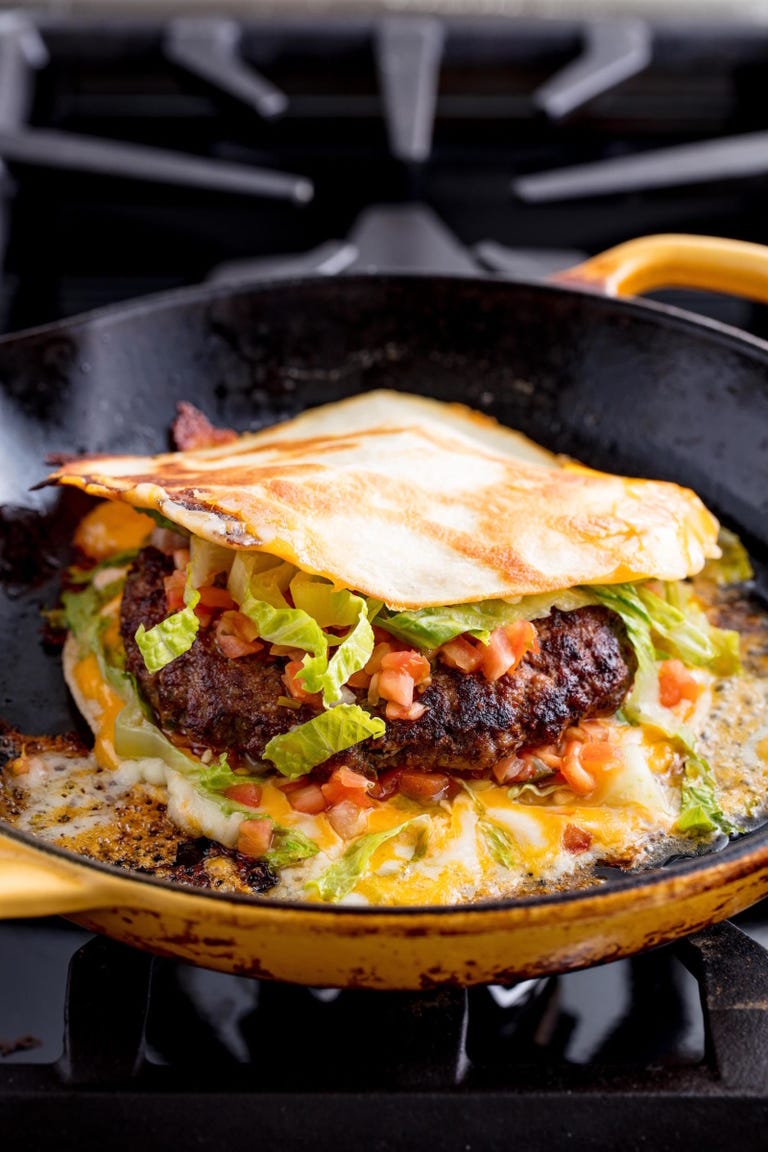 There was a point in my life when I ate quesadillas every day for lunch for a solid year. This burger recipe takes the rich flavors of the quesadilla and puts them into a compact package. Try it here.
#27 The Salmon Burger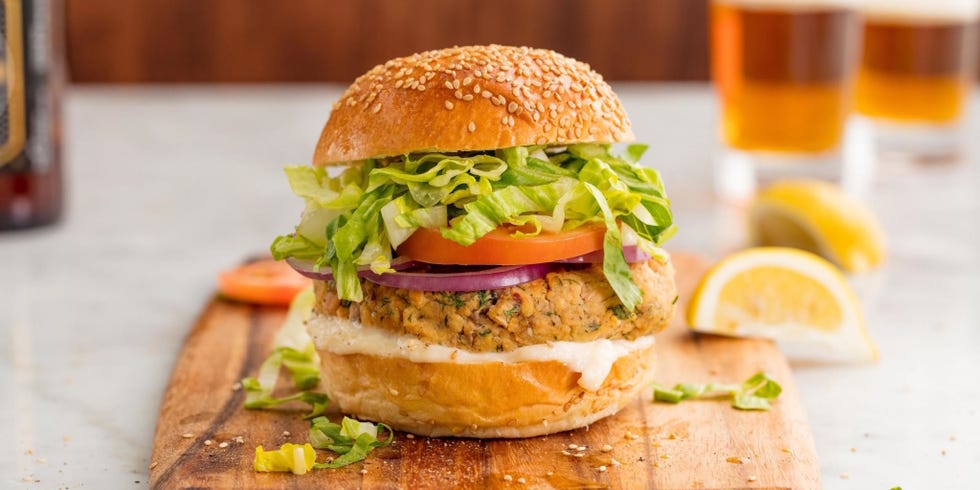 The tender juiciness of well-cooked salmon makes it the perfect candidate for a burger patty. This salmon burger recipe will make you wish you live next to the ocean. You can find it here.
#28 The Chicken Caesar Burger
If you're a fan of chicken Caesar salads, then you'll love this burger. And it's even better than the salad that inspired it because it will actually fill you up. Try it here.
#29 The Lamb Burger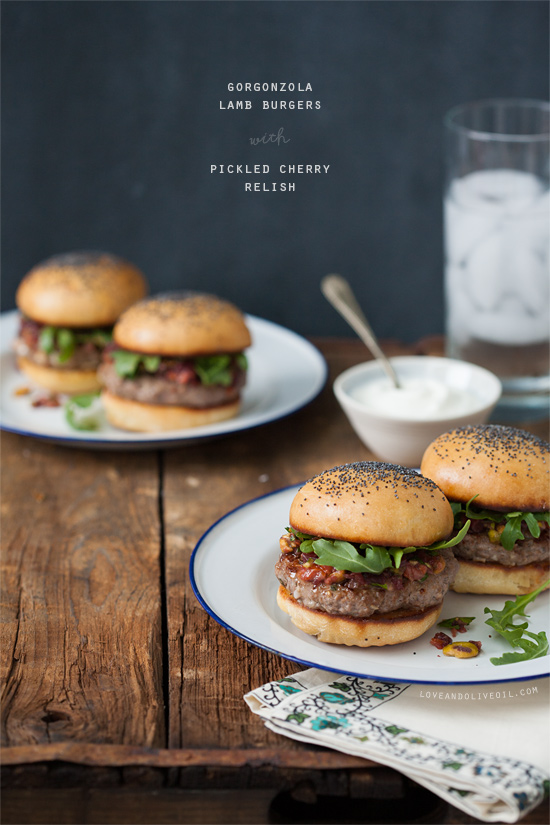 I had my first lamb burger under a bridge at a farmer's market in London. Something about using lamb in burgers adds a special touch that is absolutely mouthwatering. Try the recipe here.
#30 The Quinoa Turkey Burger
Gone are the days when unhealthy burgers were the only ones on the menu. The quinoa and kale in this burger make it one of the healthiest on this list. Try it here.
Conclusion
Did you enjoy that list of crazy burger recipes? Since burgers are such an integral part of the American diet, I wanted to share some of the strangest but most delicious takes on the classic burger with you in this article.
Comment below if you've tried or think you are going to try any of these recipes, and share the article if you liked it!